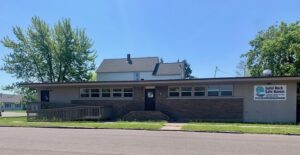 More than a shelter, "the Rock" is a path towards stability for adult men. We assist participants in becoming self-sufficient through securing employment and a permanent residence.  Solid Rock provides three meals a day, bed, laundry, phone and clothing for residents.
Check in for men needing shelter should arrange their appointment between 2-3pm. Intakes should be completed before 6pm.
Other than monetary donations, Solid Rock is always in need of other items that can be dropped off at their location:
1004 N. 6th Street
Superior, WI 54880
715-392-6264
Contact Kathy for more information on the shelter or Stacey for help learning more about Solid Rock's transitional living program.
Wish List
Laundry Detergent
Bleach/Pine-sol
Coffee
Toilet Paper
Toothpaste/Toothbrushes
Razors
Deodorant/Bar Soap
Socks/Underwear (new)
Non-Perishable Food Items
In accordance with Federal law and U.S. Department of Agriculture policy, this institution is prohibited from discriminating on the basis of race, color, national origin, sex, age, or disability. To file a complaint of discrimination, write USDA, Director, Office of Civil Rights, 1400 Independence Avenue, SW, Washington, D.C. 20250-9410 or call (800) 795-3272 or (202) 720-6382 (TTY). USDA is an equal opportunity provider and employer.