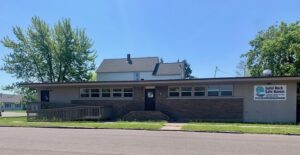 More than a shelter, "the Rock" is a path towards stability for adult men. We are a 30 day shelter that assists participants in becoming self-sufficient through securing employment and a permanent residence with resources we have to offer.  Solid Rock provides a bed, laundry, phone use and donated clean clothing for residents.  There are plenty of food donations so they can have breakfast or snacks and Supper is made for the resident's Monday through Friday at 5:00 pm.
For men who are needing shelter, please call the Shelter Manager after 1:00 pm (Mon-Fri) to arrange their appointment between 1-4pm. Intakes should be completed before 6pm.  We can always use Volunteers who wish to contribute and help, contact the shelter to get more information.
Other than monetary donations, Solid Rock is always in need of other items that can be dropped off at their location:
1004 N. 6th Street
Superior, WI 54880
715-392-6264
Contact Kathy for more information on the shelter or Stacey for help learning more about Solid Rock's transitional living program.
Wish List
Large Laundry Detergent/Dryer Sheets
Twin size Bed Sheets (Flat & Fitted)/Pillow Cases/Blankets/Quilts
Pine-sol/Dawn Dish-washing Liquid (can be off-brand), Scrubbing Bubbles
Coffee/Coffee Filters/Hot Cocoa/Kool-Aid, sugar & creamer
Paper Towels & Paper Plates
30 Gallon & 13 Gallon garbage bags
Gallon Zip Lock bags
Men's Shampoo & Conditioner
Razors/Shaving Cream/Body Lotion
Men's Deodorant/Men's Body Wash
Men's Socks/Underwear (new and sizes Medium to 4X and any type; boxers or briefs)
Non-Perishable & Other Food Items (canned veggies, canned diced tomatoes, tomato sauce, pastas, rice, canned pinto/kidney/black beans, sauces, dry potato flakes, gravy mixes, dry soup/chili mixes, box cereals, bags of split peas & beans, Mac & Cheese )
Bulk Spices: Salt, Pepper, Garlic Powder, Onion Powder.  Cooking Oil, Flour, Corn Starch, Baking Powder, Baking Soda & Cornmeal.
Thank You!
In accordance with Federal law and U.S. Department of Agriculture policy, this institution is prohibited from discriminating on the basis of race, color, national origin, sex, age, or disability. To file a complaint of discrimination, write USDA, Director, Office of Civil Rights, 1400 Independence Avenue, SW, Washington, D.C. 20250-9410 or call (800) 795-3272 or (202) 720-6382 (TTY). USDA is an equal opportunity provider and employer.